Top Hero Dogs of 2015
1. Dog Saves Grandma From Christmas Eve Fire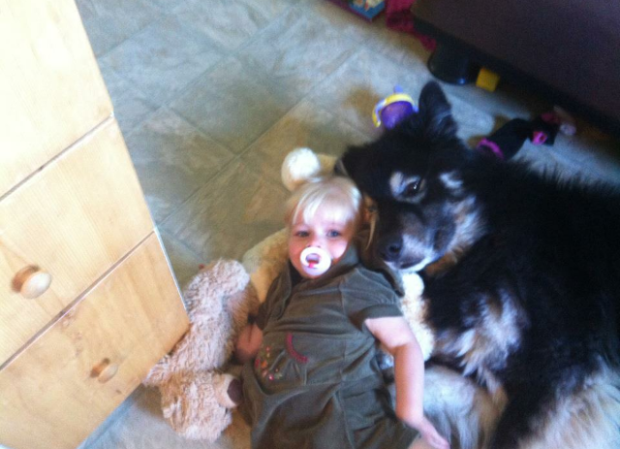 On Christmas Eve the Hawman family was at a relative's house for dinner, leaving Rex the dog home with elderly grandma Noreen, who decided to stay behind as she was feeling a bit under the weather. Noreen was asleep on the couch when the family home erupted into flames. Family dog Rex acted quickly, barking to alert Noreen then grabbing her pant leg in his mouth, dragging her off the couch and to safety outside. Rex's courage and loyalty that fateful night will never be forgetten by the Hawman family.
2. Persistent Setter-Spaniel Saves Her Sister Phoebe the Basset Hound
(Amy Carey / via http://www.huffingtonpost.com.au/)
Dogs aren't just loyal to their humans - they can do amazing things when it comes to helping their doggy family too! Tillie, a Setter-Spaniel mix, stayed put for almost a week in the spot where her sister Phoebe the Basset Hound had fallen down a shallow drain, only leaving to run back and forth to a nearby property trying to raise the alarm. After finally noticing Tillie's persistent attempts to get their attention, the property owners followed Tillie to investigate and came across Phoebe. Within hours both dogs - a little tired, weak, but generally in good health - were returned to their relieved owner. This heartwarming story is one of true friendship.
3. Poppy the Australian Sheep Dog Protects Lost Toddler
(via ABC NEWS)
On a fateful night in December 2015, two year old Sophia slipped silently from the her family home, south-east of Melbourne, Australia, about 7:30pm wearing nothing but a t-shirt and a nappy. Her one year old Australian sheep dog, Poppy, noticed the toddler wandering off and followed her into the dense scrub surrounding the family home. Once Sophia's parents were aware of her disappearance a full-scale police air and land search ensued to find the missing toddler. There were grave concerns for her safety considering the thick bushland, multiple water dams on the property and Sophia's lack of protective clothing.

After a frantic seven hours, tireless volunteers heard the bark of a dog nearby and quickly investigated. Just after 2:15am they followed the bark to a nearby dam to find Poppy the dog, huddled close to Sophia to keep her warm, just 200m from the dams edge. Poppy, only just a pup herself, has been hailed a hero for staying by her young owners side and for raising the alarm when she heard the searchers nearby. Distraught Grandmother to Sophia, Vera Cook said the family could not be more thankful for Poppy's bravery and loyalty, adding "She'll definitely be well fed this evening!".
4. American Bulldog Protects Family From Intruder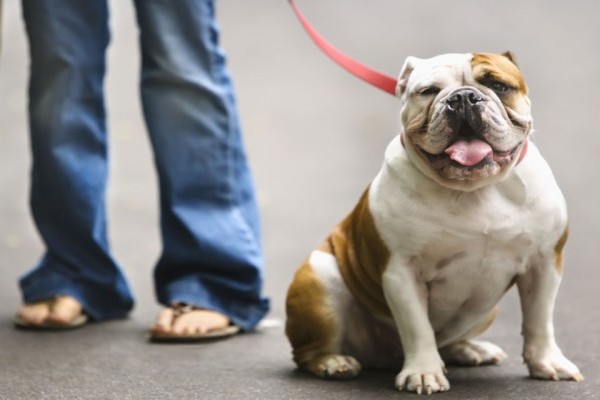 (via http://www.woofipedia.com/)
Picture this: It's the middle of the night in April 2015, and a deranged man is on a violent crime spree through suburban Atlanta after he attempted to murder his estranged ex-wife and then fled on foot. He is now running through the streets, wielding weapons and entering homes at random. He had just ran up the driveway and through the front door of one such home, when he was met with far more than he bargained for. "Wilson" the blue American Bulldog was not about to let this intruder upstairs near his precious family. Adra and Eric, Wilson's owners, were awoken by noise downstairs and quickly called the police.

No doubt sensing the threat this man presented, Wilson the bulldog managed to force him downstairs into the basement and had him cornered, snarling and snapping at him to keep him at bay. The police arrived and were able to detain the man, who had a long line of prior offences, and charge him with attempted murder, breaking and entering and a whole host of other crimes. Police were full of gratitude for Wilson for stopping the assailant in his tracks and preventing more possible violent attacks and damage to property.